Thursday, November 8, 2018.  6:30 am to 9:30 pm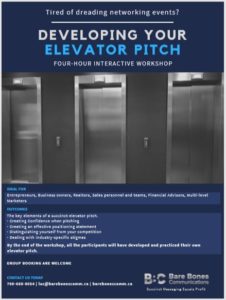 At Riverdale Rink House 9231-100 Ave NW, Edmonton, Alberta
Investment: $25
---
This workshop is ideal for:
Entrepreneurs
Business owners
Realtors
Sales personnel and teams
Financial Advisors
Multi-level Marketers &
Mortage Brokers
Workshop Outcomes:
In this four-hour interactive workshop, participants will:
Leave with extensive knowledge of the key elements of a succinct elevator pitch.
Have developed and practiced their personal elevator pitch.
Feel greater confidence in their positioning statement which will help distinguish themselves from their competition.
Be knowledgeable on how to deal with industry-specific stigmas.
---
The main difference between those who like to network and those who don't is that those who like to network, are, in a sort of in a weird way, "in love" with their product and can't wait to tell others about it. How do you fall in love with your product? It's simple. Intimately know what value your product/service brings to your ideal customer/client. When you truly know what problem your product/service solves, then people will pay good money for that. This workshop will help you figure that out, what problem you solve and how do you improve your client/customers lives.
Register now, for this informative, example-rich and participatory workshop and learn how to stand out and position yourself distinctly from your competition.
Lastly, I would like you to think of this workshop as a laboratory, where you get to experiment and practice your communications skills. There is no right or wrong here, just degrees of how close your value proposition resonates with well-paying clients.